Darood e Taj or Darood e Naaria Se Mushkilat Ka Hal is composed by Syed Suleman Shah and it has 99 pages.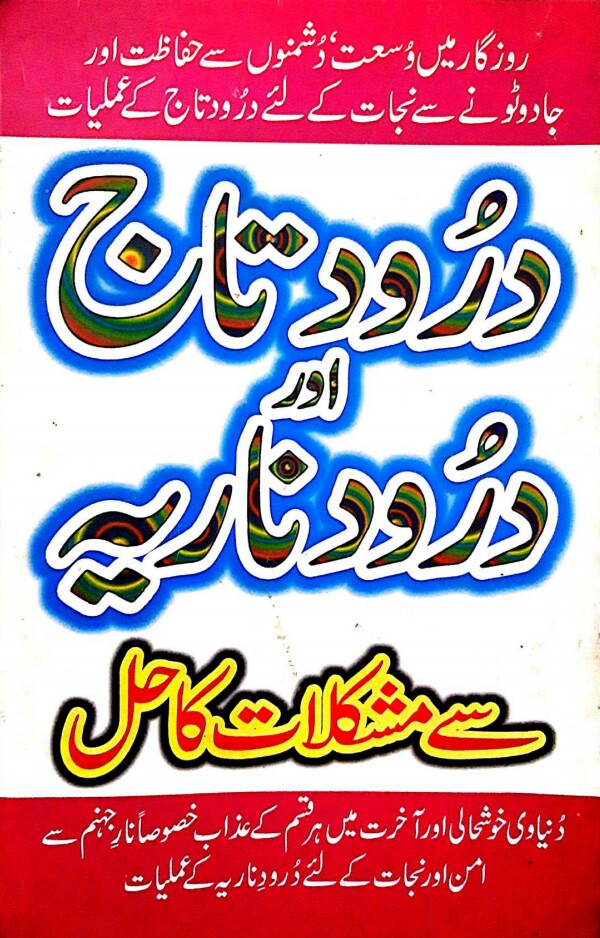 Darood e Taj or Darood e Naaria Se Mushkilat Ka Hal book free PDF
In this book, you can read about Iztraab e qallb, Attaat e ilaahi ka zahoor, Fatah e barnaffs, Itminaan e qallb, Mehboob sy doori, Allah taala'a ki farmanbrdari, Allah taala'a ki tajlli ka mushahida, Imtihaan main kamiyabi k liye, Patthon ka dard na rahy, Chpaki ka illaaj, Peshaab main khoon, Peshaab main rukawat, Ziyabtees sada, Imraaz khabees ka illaaj, Tubadla na hony paye, Taskheer khlaaiq, Marz kia ha?, Tilli hujm main barh jaye, Tashnj ka khatma, Galay ky ghadood, Bray e marz tibi, Afaat sy hifazt, Ratunda ka illaaj, Nazar ki kamzori, Har takleef k liye, Khoobsurti k liye, Dushman sy hifazat, Hafiza ki kamzori ka illaaj, Khoon ki kammi, Khud klami ka illaaj, Zakhmon k nishanaat, Zehr k nuqsanaat sy hifazt, Dammy ka khatma, Imraaz daant, Daant dard ka khatma, Illaaj dard himma qism, Dard kaan ka illaaj, Erhi ka dard khtam, Dard shaqeeqa ka illaaj, Munh ka zaiqa khrab ho to, Jariaan khoon, Bray e nikaah, Shohr hi muhbbt, Tlaaq sy hifazt, Ghar main chakh chakh, Taaoon sy hifazt, Zachgi or pait barh jana, Thanila ka illaaj, Ghussa ziyada aye, Chotty qaad ka illaaj, Kabdry pan ka illaaj, Fassl main barqat, Kaam main fill na lagna, Ganj ka illaaj, Munh ki badboo door krna, Mirgi ka illaaj, Nakseer ka illaaj, Purana nazla, Nasha ka illaaj, Hichki lag jay to, Jism ki haddian galna.
You can download Darood e Taj or Darood e Naaria Se Mushkilat Ka Hal pdf format by clicking below the download now button.

[the_ad id='10']