Ejaz Ahmed Khan Singhanvi is the author of Asaan Amliyat o Tawezat Jild 2. It consists of 324 pages.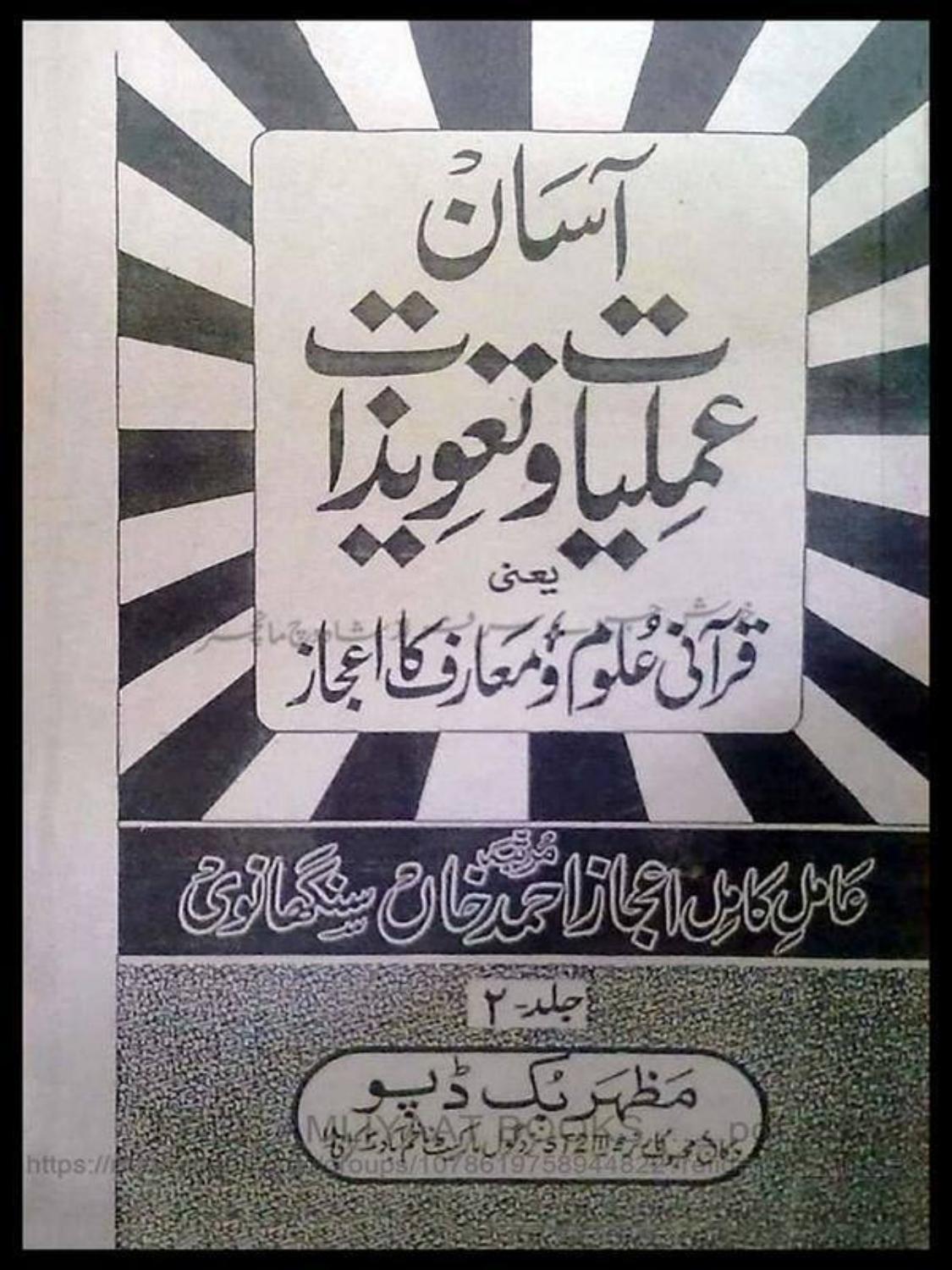 Asaan Amliyat o Tawezat Jild 2 Catalog
In this book, you can read about ghar ke jahgron se nijaat ka amal, dushmano se hifazat ka amal, zojain mein muhabbat ka amal, Qalbi pareshani o dili sakon ke liye amliyat, Jin Sehr or Jadu ko khatam karney ke liye mujrab amal, Bichu ke katay ka ilaaj, her qism ke muqadmey mein kamyabi ka amal, Tawez for hifazat, nazar e badh ko dor karney ka amal, sir dard ke liye tawez, Istikhara karney ka tariqa, Aurton ke naseeb kholney ka amal, jald shadi ke amliyat, kalay or sifli jado se nijaat ka amal, Hasb e mansha shadi k liye amal.
Kalay or Sifli Jadu ka Rohani ilaaj
You can also read about Sehr jado ki kat, kalay jado se hifazat ka amal, naaf tal janey ka tawez, Mirgi ka rohani ilaaj, Asaib bhaganey ka powerful amal, dushman ko zeer karney ka amal, hub ka mujrab amal, Her qism ke dard se nijat ka tariqa, online istikhara for shadi, downloadable tawez for love marriage, black magic spells in Urdu and Hindi.
You can download Asaan Amliyat o Tawezat Jild 2 in PDF format by clicking the below download now button.
[the_ad id='11']
[the_ad id='10']