Sahaba Akram R.A Ka Qabool e Islam is composed by Abdul Aleem Nadvi and it has 505 pages.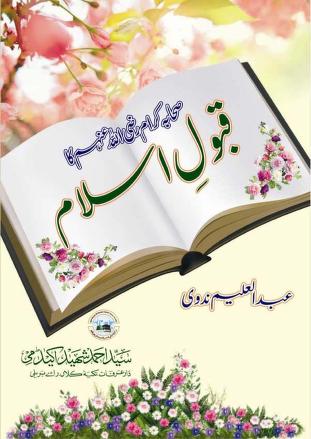 Islamic History Urdu PDF Free Books
In this book, you can read about Quran e Majeed Ka Asar, Moujizat Ka Asar, Fatah e Makkah Ka Asar, Ikhlaq e Nabvi Ka Asar, Hazrat Abu Bakar R.A Hazrat Usman R.A Hazrat Ali R.A or Hazrat Umar Farooq R.A Ka Qabool e Islam ka Waqiya, Hazrat Haris Bin Hisham ka Qabol e Islam, Hazrat Ins Bin Malik R.A ka Islam Qabol Karney Ka Waqiya, Hazrat Umro R.A bin Umayya Ka Kabol e Islam, Hazrat Suleman Farsi R.A Ka Islam Qabool Karna.
Es Kitab mein Sahaba Akram R.A k Islam Qabol Karney k Waqiyat Likhye Gaye hain. Ye kitab bohat he nayab kitab hai mazeed is tarhan ki kitabien hasil karney k liye hamari website ko lazmi bookmark karlien. Shukriya

You can download Sahaba Akram R.A Qabool e Islam in pdf format by clicking the below download now button.
[the_ad id='10']