Israr Qalmi Dairy is composed by Amil Kamil Faqeer Ullah Khan Qadari Naqshbandi Chishti and it has 84 pages. Es Dairy mein jitney mein amliyat, tawezat or mantar hain ye sab bohat bary buzurg hastion ke ata shuda hain. Em amliyat mein kisi qism ki chilla kashi ki zarorat nahi. Ye amliyat current ki manind hain.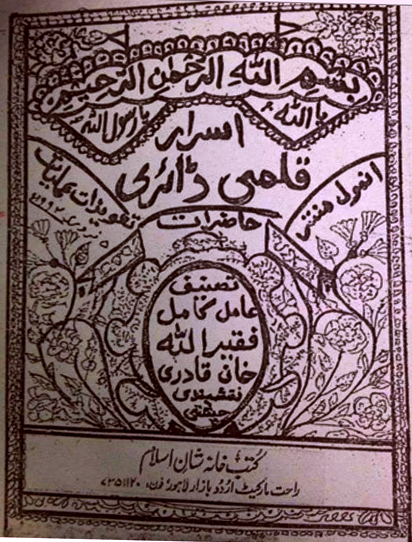 Israr Qalmi Dairy | Amliyat Tantar Mantar or Tawezat
In this book, you can read about Darood e Taj, Amal e Hazirat, amal e Hamzad, Jameela pari ko taskheer karney ka nayab amal, Jinaat ko hazir karney ka mantar.
You can also read about Surah ikhlaas ke moukal ko hazir karney ka amal, Hazari e shehnshah e jinaat, Qaza e Hajaat, Amliyat or Mantar for Inami Bonds o satta, Rizq mein taraqi ka naqsh, Hazari e Matloob bamoukal, Mehboob ko taskher karney ka amal, Mohini mantar e hub.

Darshan maharaj, Hazari e Huqay wala baba, hazari e devi, Parion ki hazari, barbadi e dushman, Zuban bandi or khuwab bandi ke amliyat, Sanp or bichho ke katay ka dum, Qarza otarney ka naqsh, Ghar se jadu khatam karna.
You can download this book by clicking the below download now button. Sharing is caring so please share it with your friends.
[the_ad id='10']