Maqbool Kamil Sinyaasi Batasveer is composed by Hakeem Noor Ahmed Saqib and it has 212 pages. Es kitab mein wo nuskhajaat darj hain jo ke laiq sinyaasion or tajurba kar hakeemo ke seena baseena chalay aye hain.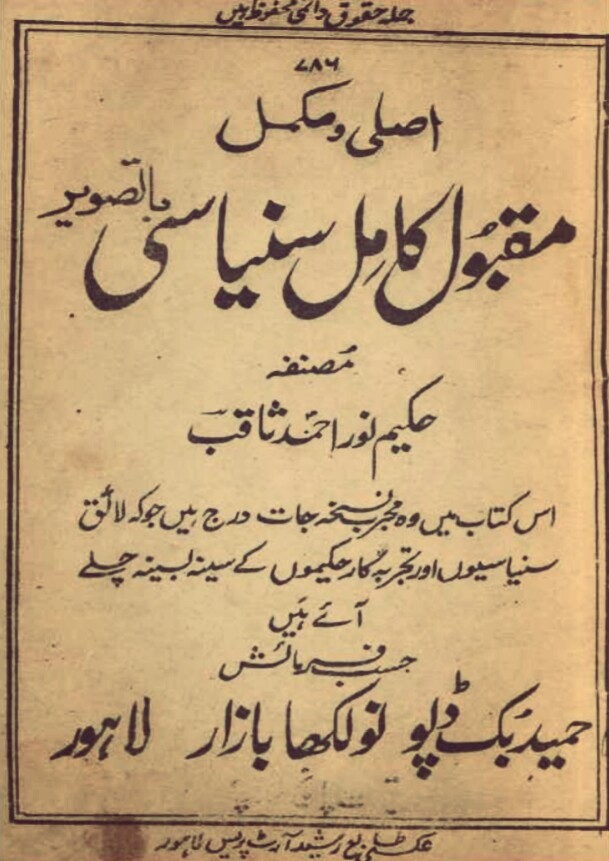 Maqbool Kamil Sinyaasi Old Hikmat Book in Urdu and Hindi
In this book, you can read about Tashkhees e nabz, Nabz dekhney ka qaida, Doctori tareeqy se nabz ki shanakht ka tariqa, Nabz k mutaliq Unaani itbaah ki malumat, nabz belhaz e umar, Tashkhees e peshab, harkaat e saans, tandrusti ki nishani, Asbab pedaish e amraaz, pedaishi amraaz, her qism ke bukhar ki alamaat, bawaseer khoni o baadi ka ilaaj, bhouk barhany wali goliyaan, yarqaan ka ilaaj, amraz e maida ka ilaaj.
You can download Maqbool Kamil Sinyaasi Batasveer in PDF format by clicking the below download now button.

[the_ad id='10']