Aamil Kamil Part 1 is composed by Kash Al Barni Sahib. It contains 142 pages. Ye kitab on logo ke liye tohfa hai. Jo Rohani uloom se dilchaspi rakhtey hain. Or apni zaroriat mein amliyat se khud kam lena chahtey hain.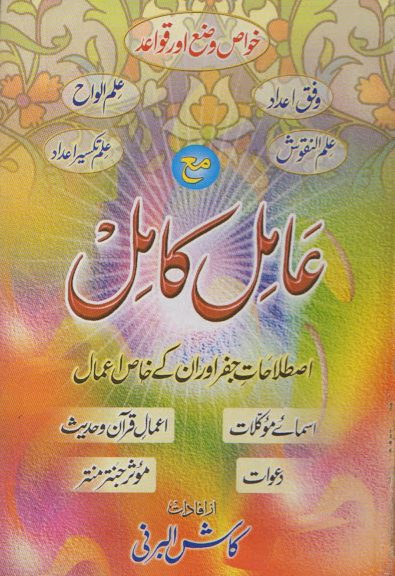 Es kitab mein eslahat ki mukamal tashreeh, or onke tajurbat diye gaye hain. Masaib ke hal, Maqasid ke hasool ke tariqy, naqsosh ka hisabi nizam aur hasoof ki quwaton ko qabu mein lane ke tariqy ba tafseel likhey gaye hain.
Kash Al Barni Books in Urdu
In this book, you can read about the following topics;

ilm e Jaffar
Mukharij adaad, Quwaid e tillism, Naqosh banane ka qaida, Kamyabi ka ek khaas chutkala, Ek khufia raaz, Naam sitara or baruj maloom karna, Quwat e mardangi, Hub ke liye saat batiyan, Tillism e taskheer, Tilsm e taraqi, Abjad e shamsi, Amal harof e sawamat.
Naqosh o Amliyat
Naqsh e musalas, Naqosh ka bunyadi falsafa, Naqosh ke chand amliyat, Nachaki zan o shuhar, Amal e bughaz, Adawat, Hub ka amal, Taskheer e hamzad, Istekhara e mujrab, Dast e ghaib, Qanoon e qudrat or amliyat, Naqsh e taoon.
Amaal e Qudrat
Jin o shayateen, Qabool e hajat, Waswasa e shaitani, Ayat e kafayat, Adaigi e qarz, Rajoh, Hal ul mushkilat, Gumshuda, Amal e bismillah.
Asma e Moukalat
Zakat ka tariqa, Zakat e harof e tehjii, Moukal banane ka tariqa, Tareeq Dawate haroof, Agar taskher e alam manzor ho.
Dawaat
Dawat e surah e muzamil sharif and Surahe yaseen, Kashf e qalob, Ayat e qutub, Saanp ke 2 amal, Marz e mirgi, Taskheer e khalaiq o taskher e mehboob.
Mantar Jantar
Braye Tip, Dard e shikam, Mantar e hub, Dard e shaqiqa, Amal gulehri mohini braye hub, Aurat ka khoun jari karna, Dard e chahti, Dewali, Adhey Sir ka dard, Mundrah, Atar e mohini etc.
[the_ad id='10']