Kamyabi Ka Raaz is composed by the Author Dale Carnegie and it is converted into the Urdu language by S. Naaz and it has 43 pages.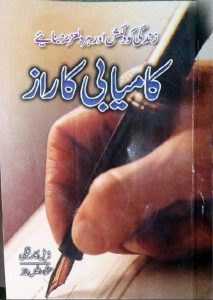 Best Motivational Books in Urdu and Hindi PDF Free
In this book, you can read about Kamyabi ka raaz, Ap zindagi k kisi b hisay mein kamyabi hasil kar saktey hain, Ghurbat door, Rijaiyat pasandi, Masail per ghor o fikar, kamyabi ki tarf ek qadam, ehsas e kamtari, Asaabi tanaou, Bunyadi souch, Maazi ka post martam, kamyabi or zaati pareshaniyan, Mushkilat bharpor zindagi ki alaamat, Ap k yakeen mein he yakeeni kamyabi hai, waqt zaya na karien, Etedaal pasandi, Sharmayee mat, Pehly mansuba bandi or tiyari, Jald bazi, Ap ghareeb kiun hain.
How to Download Motivational Books in Urdu and Hindi PDF?
You can download Kamyabi Ka Raaz in PDF format by clicking the below download now button.

[the_ad id='10']