Israr e Ajeebah is composed by Moulana Hassan Al Hashmi and it has 131 pages.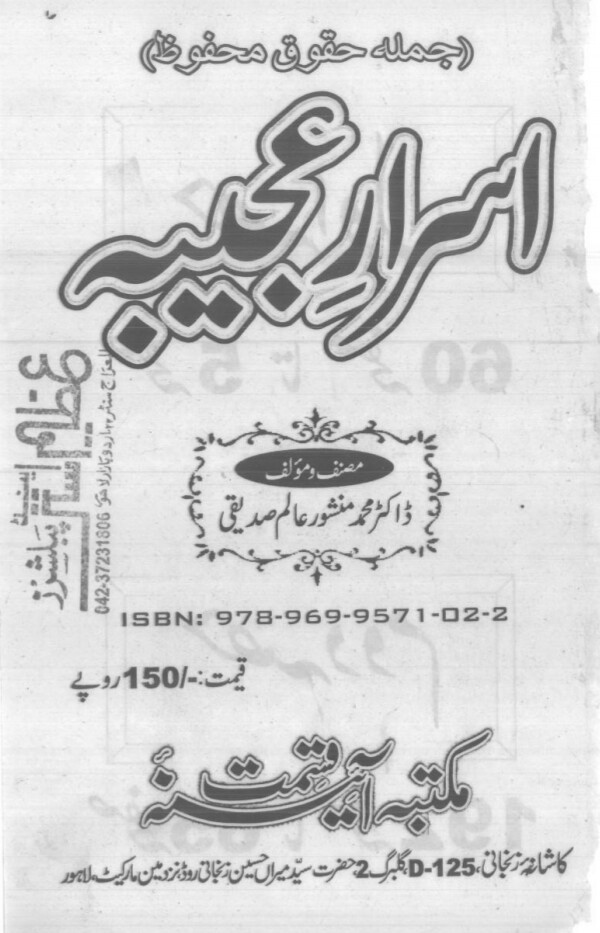 Israr e Ajeebah book free PDF
In this book, you can read about Qafl kholna, Ghar ma saanp na aay, Chapkili bhgana, Ghar ma chuhy na aay, khatmal bhagana, Makhi bhgana, Parwany shamaha k paas na aye, Pani ma dooby nahi, Andhery ma dekhey, Dastrkhuaan par tamaam log nahi, Khana khay magr pait na barhay, Jo shakhs ammil ko dekhty kary, Hath ki cheez koi na dakh saky, Pani ka ghara khali ho or phir barh jana, Drakht k sab ptay jhar jaen, Machli pyda krna, Do chiraagh apass main laren, Bujah hua chiraagh bagheir aag ky jaly, Chalni Say Pani na giry, Dhoop main juar na bhuny, Aam ka pairr anghari main uggy, Hath Par aag asar na kary, Bichoo pyda karna, Shraab ka nashaa khatam karna, Chaar dandy apass main laren, Book pdf, Islamic, Book of islam, New book, Dhol phuty, Insaan ko zameen say chipka Dena, Taskheer girba ka hert angeez aaml, Bakhoor dafi albliyat, Bakhoor bhoot o daki, Bakhoor bhoot prayet, Bhoot prayet utarna, Dafi al sehr, Taaweez asaib zada mreez ka, Drawny khwab aana band hon, Ganda yrqaan, Amsaak, Safeed Baal siaah hon, Daant k kery jhren, Aqal o fehem barhy, Malaria bhkhaar dafa ho, Chuthiya bukhaar dafa ho, Aik din ma bukhaar dafa ho, Daant sukh sy nikly, Maqtool ki rooh ko maamool banana, Islamic book, New pdf book, Islam in book, Bokh nahi lagna, Shair ka shakaar, Be sharam aurat ko sharam dar banana, Sharaab Khrab karna, Mard ki shawat pasand karna.
You can download Israr e Ajeebah in pdf format by clicking below the download now button.
کتاب ڈاونلوڈ کرنے کا طریقہ