The book "Amliyat e Taskheer e Jinnat" has 80 pages. In this book, you can read about Jin Bhout Hamzad o Haziraat, Moukaleen Waghira Ki Taskher K liye Asaan Amal, Khaas Khaas Amraaz K Rohani ilaaj, Bad Arwaah, Bhout, Churailon or Daino Se Bachney Ki Tadabeer.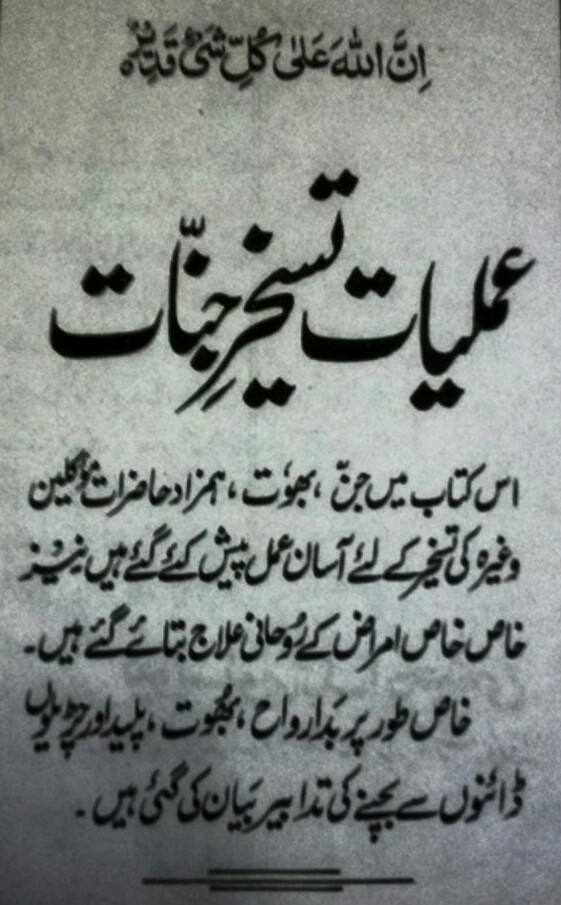 Jinnat or Hamzad Ko Qabu Karney Ka Amal
Tribes of Jinaat, Birth of Jinnat, Jinaat ko Taskher Karney Ka Rohani Amal, How to Catch King of Jinnat, How to escape from Jinaat and Asaib, Jinaat se Hifazat Ka Wazifa or Amal, Naqsh of Surah e Jin, Naqsh and Tawez of Surah Tariq Sharif, Sehr or Jadu ka Rohani ilaaj, Jadu Tonay Ka Rohani Gharelu Nuskha.

[the_ad id='10']