Teer Behdaf Yadgaar Barjesiya is composed by Dr. Syed Abdul Hameed and it has 109 pages.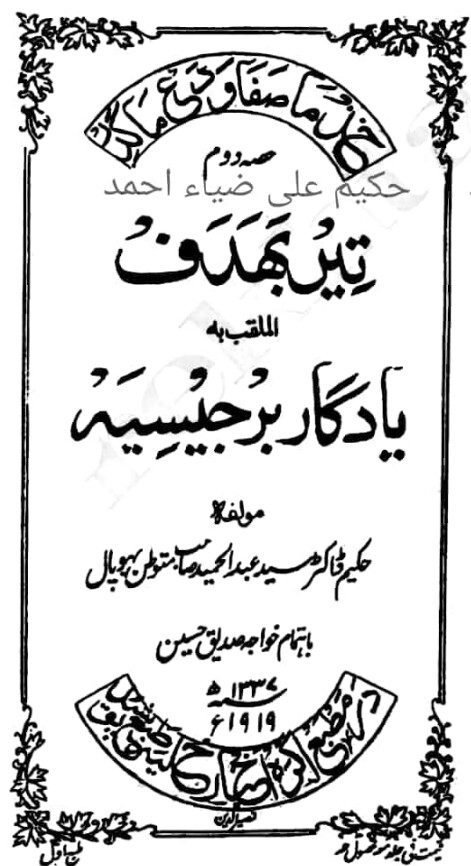 Teer Behdaf Yadgaar Barjesiya book free PDF
In this book, you can read about Surmah baraey jala o pahli, Kheal bray jala o sabal o sakwari o hund, Kali dua baraey damah, Sarbaat baraey Nazla zukam, Mukhtalaf amraaz ki duaen or un ko bananay ka asaan tareka, Garam dard e sir, Sard dard e sir, Khashk dard e sir, dard sir zabay o waqti, Sir dard, shahqiqa, Asabah, Bhono ka dard, Aashoob e chasam, Aankh ka dard, Aankh ka dard o sartaan, Hazmaa k liye duaen, Mahdy ki duaen, Duaen or un ka ilaaj, har lehaz sy aasan duaen or un ko banany ka aasan tareka, Mardana takat ki duaen, Maiday k amraaz ki duaen, Gurdoon k liye nuskha, Paoon main dard k liye nuska, Kamal ki duaen or nuskha jaat, Masany ki pathry k liye duaen, Aasoob e chasam, Health Books in pdf download, Hikmaat ki kitabeen , Hikmaat books, Hikmaat sekny k liye aasaan kitab, Jaryan ka ilaaj, Ahtalam ka ilaaj, Roghan e badaam, Sofoof bray jaryan, Degar amraz e qalb, Kharas ka ilaaj, Mosam e Bahar or us ki bemaroon ka ilaaj, Mosam ki tabdeeli k waqt ki bemareon ka ilaaj.
You can download Teer Behdaf Yadgaar Barjesiya pdf format by clicking below the download now button.

[the_ad id='10']