I am sharing with you an article about "Sitaron Ki Nahosat Door Karney Waley Juwahirat". This detail is written by Kash Al-Barni in his book Pathron K Sehri Khuwas. In this book, he wrote detail about stars, gemstones, and color.
Sitaron Ki Nahosat in Urdu and Hindi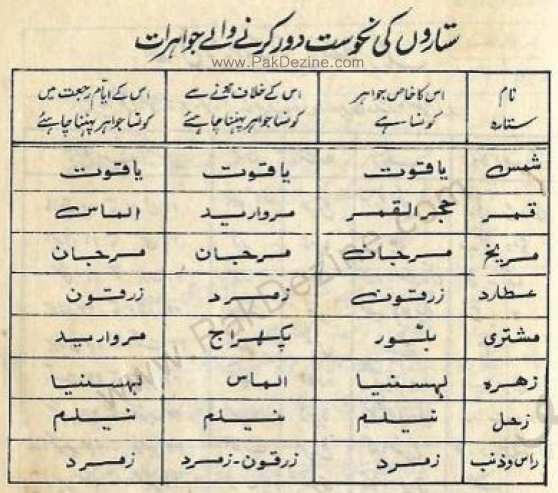 Sitaron Ki Nahosat Door Karney Waley Juwahirat K Baray Mein Kash Al-Barni Sahab Ne Apni Kitaab Pathron K Sehri Khuwas mein Bohat Tafseel Se Zikar Kia Hai. Insaan Ki Zindagi Per Sitaron Ki Kia Nahosat hai, or Qeemti Pather or Rang Apki Shakhsiyat Per Kia Asar Dalty Hain.
Kash Al Barni Books PDF Free Download, Amliyat Books in PDF Free Download, Gemstones Books in Urdu Free PDF, Qeemti Pathron Ki Pehchan, How to find Real Gemstones, Price of Gemstones in Pakistan and India, Online Istikharah Center, Daily, and Weekly Horoscopes Free, Zaicha for Qismat and Doulat.