Rozay Se Mutaliq Pai Jane Wali 19 Ghalt Fehmiyan or Onka azala kitab ke musanif ka naam Abu Muhammad Mufti Ali Asghar Attari Madni hai. Ye kitabcha 22 pages per mushtamil hai.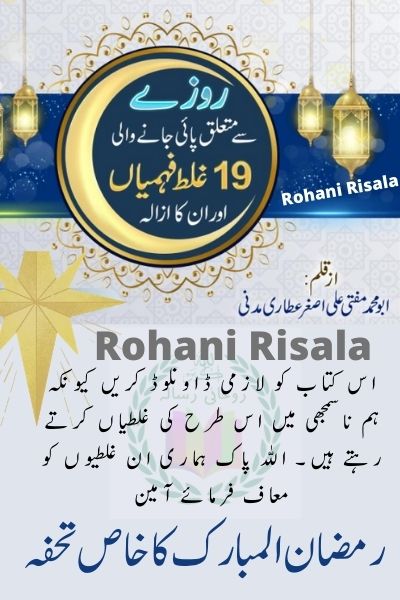 Ramzan and Roza Book in Urdu and Hindi
In this book, you can read about the following topics;
Ulti Anay se Roza Toot Jata Hai
Halat e Roza mein Ehtelam ho Jaye tu Roza Tot Jata hai
Thok Ya Balgham Nighal Jane se Roza Tot Jata hai Ya Makrou Hota hai
Kiye Roze mein Tail, Khusbhi or Zeer e Naaf baal saaf karne se Roza tot jata hai?
Ramzan mein Sehri mein ankh na khuley or sehri khana choht jaye tu kia roza nahi hota?
Raat mein agar ghusal farz ho jaye tu ab roza shuru honey ke bahd Kuli ya naak mein pani iftar ke waqt he daleingey.
Halat e Roza mein miswak nahi ki ja sakti
Jab tak azaan hoti rahe sehri mein khana peena jari rakha ja sakta hai
Chot waghira lagne se khoun anay ya blood test karwane se kia roza toot jata hai?
kiya Rozay mein injection lagane se roza toot jata hai?
Roze mein Attar ya khushbu songhne se roza tot jata hai?
Kuch log samjhtey hain jis din safar karna ho os din roza chorha ja sakta hai
Toothpaste karne se kia roza toot jata hai?
Roza torne se kafara lazmi hoga
Kia roze ki halat mein thandak ke liye nahana ya kuli karna makro amal hai
Kuli kartey hoye ghalti se pani halaq se nechey chala gya tu kia roza tot jaiga?
Kiya Hamla or Dhoudh pelane wali aurat per roza farz nahi?
کتاب ڈاونلوڈ کرنے کا طریقہ