Parem Bandhan K 342 Amliyat is composed by Shaukat Ali Shakir Qadari and it has 231 pages.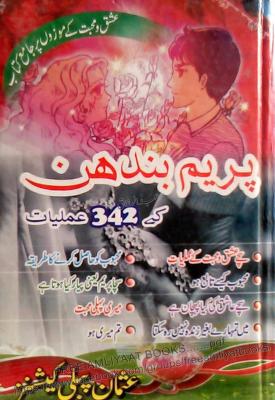 Amliyat for Love Marriage / Pasand Ki Shadi
In this book, you can read about Taskher e Muhabbat, Amal braye Hub, Tajalliyat e Noor Ayat ul Kursi, Naqsh Braye Muhabbat, Dushmani Door Karney K Wastay, Faiz e Muhabbat, Al-Hub Dil Pasand Amal, Taskher e Dil, Muhabbat Mein Qaid, Amal e Hub Ajeeb o Ghareeb, Muhabbat K Liye Akseeri Amal, Pasand ki Shadi mein Rukawat Door Karna, Love Marriage Spells.
Amliyat books pdf free download, Amliyat e Muhabbat and Hub, Jado ka Rohani ilaaj, Karobari Bandish Ka Tord, Sifli Jado se Rehai ka Amal, Love Marriage Spells in Urdu and Hindi, Kalay Jado ki Kat, Mehboob Qadmon Mein.

You can download, Parem Bandhan K 342 Amliyat in PDF format by clicking the below download now button.
[the_ad id='10']