The book "Bismillah K Rohani o Jismani Fuwaid" is composed by Muhmmad Yahya Ansari Ashrafi. It consists of 35 pages.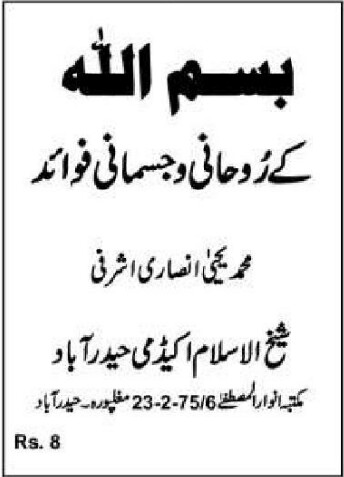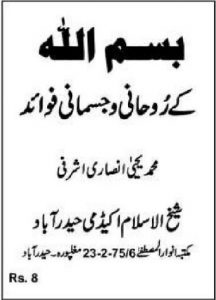 If anyone reads bismillah he will be protected from Evil, Peace between home members, increase brain power, protection of children, end the fear of enemies, for love marriage problems, for a fulfilled wish, Taskheer ul Quloob.
Black Magic Rohani ilaaj, Black Magic Spells, Sifli Jadu Ka ilaaj, Qurani ilaaj for diseases, best wazifa for body pain, increase brain stamina, kalay jadu ki Haqiqat or Rohani ilaaj in Urdu and Hindi, Amliyat free books pdf free download, karobar ki bandish ka rohani ilaaj, old amliyat and black magic books, online istekhara for love marriage and travel abroad.
Disclaimer: PakDezines is a non-commercial online library. All the books/ Documents and literature posted on PakDezines Library just for reference and educational purposes only and SHOULD BE VIEWED ONLY. It is strictly recommended to buy the products from the original owner/publisher of these products. Visit Disclaimer Page.