The book "7777 Namo Ka Khazana Burjon or ilm ul Adaad Ki Roshni Mein" is composed by Syed Irteza Ali Kirmani. In this book, you can read Names of Allah Ta'ala, Names of Hazrat Muhammad PBUH, Names of Sahaba e Ikram and Aulia Akram.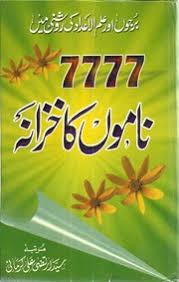 Islamic Names and Their Urdu Meaning PDF
Islamic book of 7777 Namo Ka Khazana, Namo Ka Khazana Kitab PDF Free Download, Islamic Namo Ki Lughat, Bachon K islami Naam PDF, Larkion or Larkon K Islamic Names, Bachon K Islamic Naam or Onka Matlab, Lardkion K Islami Naam or Onke Meaning, List of Boys and Girls Islamic Names PDF Free Download, Online Istikharah Center.
کتاب ڈاونلوڈ کرنے کا طریقہ