Tohfa e Sandaliya Rohani o Jismani Amraz or Deeni o Duniyavi Pareshanion Ke Azalay Ke Liye Behtreen Tohfa is written by Moulana Syed Mehmood Sandali. It consists of 96 pages.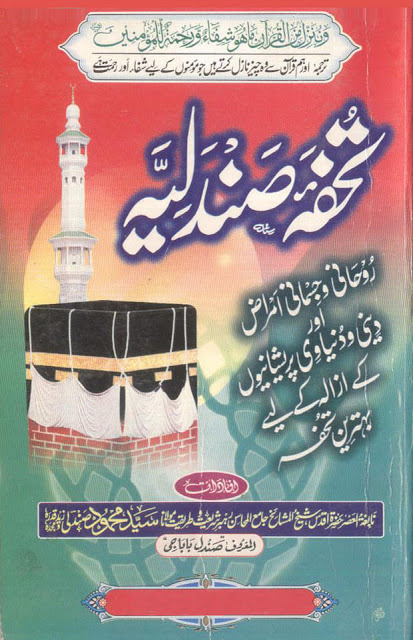 Jismani o Rohani Amraz Ka ilaj in Urdu and Hindi
In this book, you can read about Jado Sehr ka teer behdf ilaj, Dushman se nijaat ka behtreen wazifa, Dant ka dard, Namardi ka rohani ilaj, Blood pressure ka mujrab ilaj, Asqat e hamal se hifazat ka taweez, Wabai amraz ka ilaj, Karobar or rizq halal mein barkat, Khatrat e safar se hifazat, Bekhuwabi ka ilaj, Sir ke jumla amraz, Bacho k jildi amraz, Galaey ke amraz, Naaf tal janey ka mujrab ilaj.
Moreover, 70 bemarion ka rohani ilaaj, Bawaly kutay ke katay ka elaj, Aurat ka dhood bharhny wala amal, Jinaat ke shar se hifazat, Ghaib ko hazir karna, Nazar e bad ka ilaj, Adhay sir ke dard ka ilaj, Jado or bandish ka rohani ilaj, Mujrab sharbi tawezat, Falij o nazla ka ilaj, Maide ke dard ka rohani ilaj.

[the_ad id='10']