Sarmaya e Darwaish is composed by Professor Muhammad Abdullah Bhatti and it has 565 pages.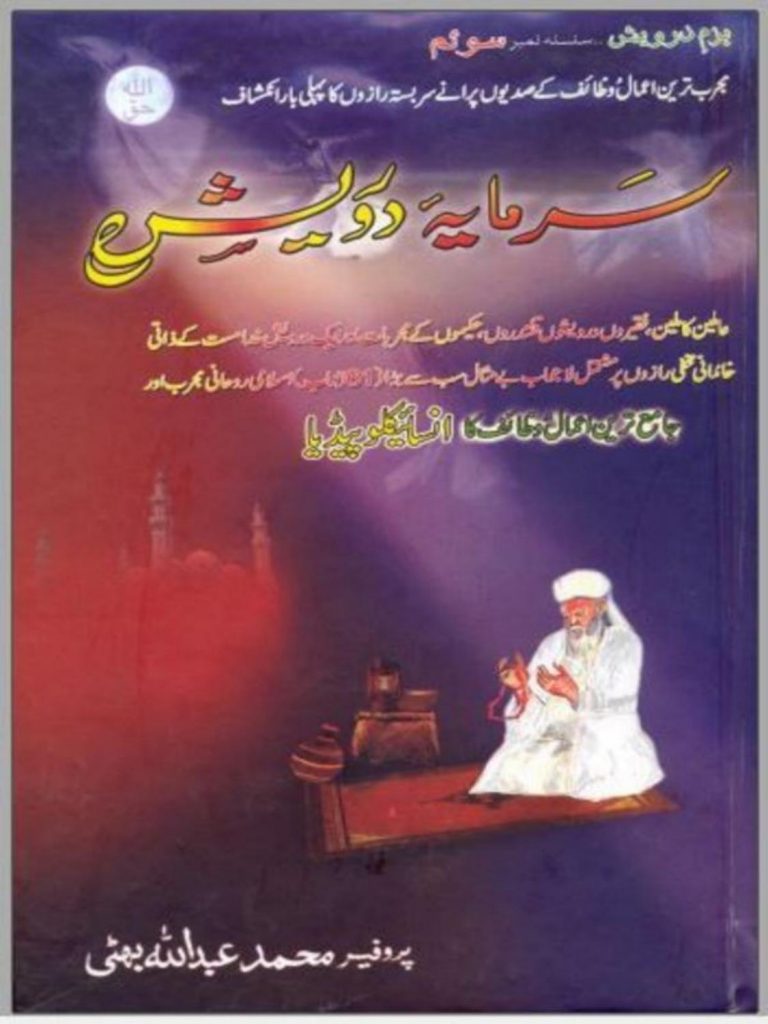 Sarmaya e Darwaish Islamic Rohani Wazaif Ka Encyclopedia
In this book, you can read about ilaaj bilghiza, wazaif ka waqt or tadaad, Asma ul Husna k khuwas, Ek eman afroz waqiya, Quran e Pak ki surton ki khuwas, Bismillah k khuwas, Sari umer ka sakoon, Surah e fateha k khuwas, Ayat ul kursi k khuwas, Jinaat jal jain, Balgham se aram ho, Dushman tang na kary, Ghaibi rizq hasil ho, Fazilat ayat e nijaat, Manzil k fuwaid, Ayat e Hifazat, Zameen k muqadmy mein kamyabi, fazail e darood e sharif, Darood e Tanjeena and taj, Kashf al saddar, kashf ul qalub ka wazifa.
Amliyat in Urdu and Hindi, Black Magic Spells in Hindj, Bangali Kala Jadu, Jado ki Kaat ka Rohani Wazifa, Muhabbat Ka Amal, Jadoo ki kaat, Ishq o Muhabbt, Online istikhara, Pasand ki shadi ka Tawez, Sarmaya e Darwaish PDF Book Free Download.
کتاب ڈاونلوڈ کرنے کا طریقہ