Hizb ul Behr K Amal Aur Taweez is composed by Hazrat Khuwaja Hassan Nizami and it has 98 pages.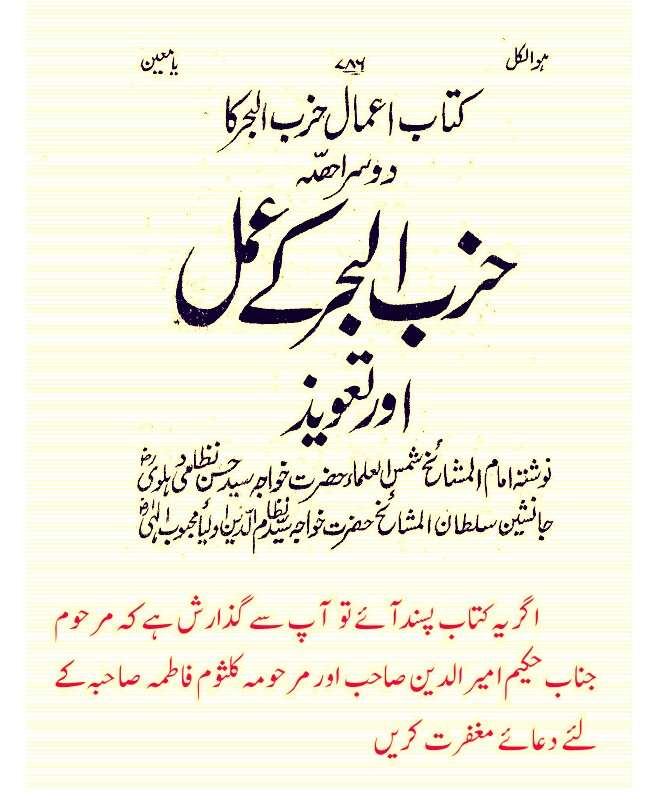 Tawezat Books in Urdu and Hindi PDF
In this book, you can read about Dua e Hizb ul Behr, her mushkil ka rohani hal, darood sharif, khush haal zindagi, Kishadgi e Rizq, Allah Taala ki muhabbat, Amaal e Hizb ul Behr, yaksui her amal ki buniyaad, hazir e qalb, tasawar ki yaksui, achay buray kam ki fitri pehchan, insaani hajatien or muradien, dukhay se bachney ka ilaaj, Europe or America mein Amliyat ka shouq, tandrusti ka amal, Amal naqsh e taskher, dast e ghaib, dushman per ghalba, darwazy ki barkat, hisar rad e sehr, nazar e bad ka taweez, Ont ki hadi per naqsh, Online istikhara for Shadi, Kala or Sifli Jado ka Rohani ilaaj.
You can download Hizb ul Behr K Amal Aur Taweez in PDF format by clicking the below download now button.
کتاب ڈاونلوڈ کرنے کا طریقہ